Soon, fall is about to replace summer. And in a little while, many fashionistas are curious about which trends the new fall/winter collections reveal. For all those who cannot wait any longer I started out to research a little bit about this season's fashion trends in Europe. And this is what I discovered.
According to the motto "opposites attract", this fall is a multifaceted mix of draperies, patterns and styles. Traditional costumes get suitable for everyday use, Minimalism gets reduced to the maximum and sweet school girl outfits coexist vintage suits à la Wall Street. The 80's masculinity meets the charming fifties. And rock star outfits are comingled with baronial glam to a baroque mix.
1st trend: Minimalistic chic
Derivation
With its seeds in art and architecture, this trend traces back to the German Bauhaus era of 1919. The principle "Reduce to the max" adverts to reclaim clean lines and simplicity over an excess of ornaments. Later, it made its way as a mindset in fashion in the 30s with Marlene Dietrich as an outrider. Today, minimalism is an inherent part of the fashion scene.
Look
This mindset alludes to the basics. Imaginative shapes displace colourful prints. Instead of that, brands like Chloé or Michael Kors tend to fawn or shades of brown which can be variegated.
Michael Kors runway look leads us to the next fall/winter trend.

2nd trend: wool and shag / Norwegian style
Derivation:
Believe me or not, but this trend emerged due to the English royal dynasty. In 1922, the Prince of Wales wore a pullover with a Norwegian style on a golf tournament and made it socially accepted. In ancient times, the colourful patterns had a certain symbolic meaning: Mainly, they were worn by fishermen or peasants and were a distinctive mark of families or counties.
Look:
This season, wool cardigans and pullovers are extremely casual but debonair. Whether trumpet sleeves or Norwegian pullovers, this year's fall is inspired by Nordic patterns.
Really in: woollen costumes with elegant pencils skirts (combined with lace at the runway shows of Dolce and Gabbana). Another winterly eye-catcher: Flashy colourful stripes.
Woolen look by Donna Karan
3rd trend: Revival of the 50's and 80's
Although these eras are long ago, nearly every decade celebrates its comeback, sooner or later. This fall it's the 50's and 80's.
Derivation of the 80's Wall Street look:
A new type of woman created a furore in those times: the successful businesswoman. In 1988, Melanie Griffith and Sigourney Weaver taught the business world the true meaning of fear in their movie "Working Girl". And to show the women's toughness, many men's clothing classics got adopted to the female wardrobe.
Look:
The look is very businesslike. Coats, chemises and cravats are a pretty good investment. Typical 80's: classical shapes and shoulder pads. To mix it up, mini-skirts can help to interpret the look in a female way. Noble hats cap the look.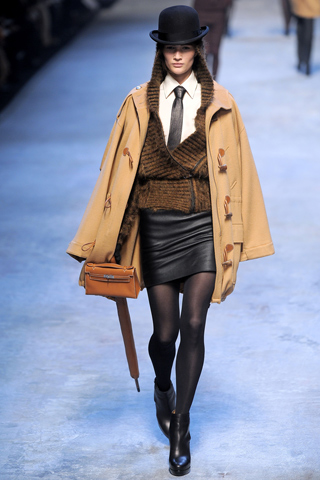 50's look:
The characteristic silhouette is defined with small tops and wide flared skirts. A plunging neckline caters for modern sexiness. Very hip: slinky bustiers or a basic t-shirt combined with a skirt. Moreover, former floral prints get replaced by modern art-appeal.
4th trend: Baroque 'n ' roll
Already in the 60s, musicians like Jimi Hendrix knew how to play to the gallery and they mixed glam outfits with quillings, velvet and brocade. The style carried forward to the 80's and to nowadays. You definitively must have a look at the video clip "Prince Charming" by "Adam and the Ants".
Look:
Precious brocade and sparkling gold threats come to the fore. The stylistic dimension varies from baroque-inspired glory to the sixties look and the shimmering 70's disco style. Who doesn't like to be that sparkish: A minimalistic combination of black and gold sets priorities without gaudiness.
Balmain
Dolce and Gabbana